Welcome to the online home of Holzinger Kennels.
Since 1982, Holzinger Kennels has developed an award winning, World class training program that can be fully customized to your hunting and obedience needs. We train all breeds on game bird retrieval, including Pointers, Flushers, Labs and Retrievers.

Holzinger Kennels also offers access to a stable of top quality, award winning Labrador Retriever Stud Dogs, and litters of recently born Labrador Retriever puppies.
With our years of experience in careful breeding, and countless hours of training and fieldwork, Holzinger Kennels is dedicated to producing and training the finest upland game bird dogs available.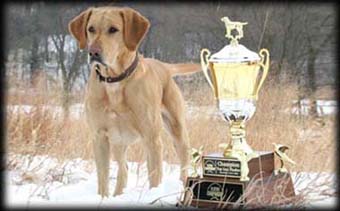 Training | Breeding | Stud Dogs | Puppies | Photos | Videos | Questions | About Us | Contact Us | Testimonials