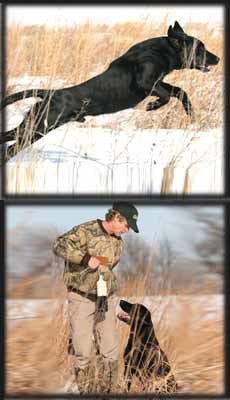 "Kona" - Cashzinger's Kona Express SH
(Eyes Cerf Normal, Elbows OFA Normal, hips OFA Good, EIC Clear, PRA Clear)
Kona is a muscular all English bred 73 lb black male. He is very well bred, having numerous British champions in his pedigree. An outstanding hunting retriever, he possess traits desired in a dual purpose family companion and hunting dog: great temperament, intelligence and style. Kona's sleek athletic build and hard driving desire to please ensures his ability to bring back the largest game, yet fit comfortably on your living room sofa.
AKC Senior Hunt Test Title

4 AKC Master Hunt Test Qualifications
Pedigree - "Kona" Cashzingers Kona Express SH
Sire
"BARLEY" SPIONCOP CRISTO (British Import)
Sire
LAFATETTE TOLLEY FT CH
Sire
KILDERKIN SENIOR FT CH
Dam
BLACK PURDEY OF KESWICK FT Winner
Dam
SCAPAFLOW DASHI OF SPIONCOP FT Winner
Sire
TURRAMURRA WIDGEON FT Winner
Dam
KILLERRISK FLOAT
Dam
HOLZINGER'S RISKY REBA
(99 Ducks Unlimited Retriever Trial Champion)
Sire
HOLZINGER'S RISKY BUSINESS SH
(4 AKC Master Qualifications)
Sire
AYR OF HAMBROOK (British Import)
Dam
HOLZINGERS LADY DUTCHESS
(95 US Open Winner - 96 US Open Top Gun Winner)
Dam
TRECKERS PENNY JH (British Import)
Sire
RAUGHLIN PETE OF DRAKESHEAD NFT CH
Dam
TRECKERS SAMANTHA

Training | Breeding | Stud Dogs | Puppies | Photos | Videos | Questions | About Us | Contact Us